Secure Shredding Services in
San Bernardino, California
Southland Shredding is your trusted partner for secure shredding services in San Bernardino, California. We understand the importance of protecting sensitive information, and our dedicated team is here to ensure your confidential documents are handled with the utmost care and security.
We provide secure document shredding and hard drive destruction services in San Bernardino, California.
In San Bernardino, we offer secure on-site document and hard drive destruction services to both businesses and residential clients. As a proud member of
i-SIGMA and holding NAID AAA Certification, Southland Shredding ensures the highest standards of security. Additionally, our commitment to environmental responsibility is evident through our practice of recycling all shredded materials.
Trust Southland Shredding for all your business document and hard drive destruction.
Utilizing cutting-edge equipment, we complete our services swiftly and efficiently, ensuring minimal disruption to your daily operations. Our advanced machinery renders materials entirely unreadable and impossible to reconstruct.
Scheduled Document Destruction: We provide routine document destruction services based on your predetermined schedule. Shredding occurs on-site at your location, where we offer secure locking collection containers, truck-mounted video monitoring for your peace of mind, and a certificate of destruction.
One-Time Purge Shredding for Your Office: For those times when you require a single, thorough document shredding session, our one-time purge shredding service is the ideal solution. This service minimizes your preparation effort—simply leave your documents in your containers, file cabinets, or file boxes. We'll transfer your materials to our 64-gallon bins and shred them right before your eyes using the shredding-truck-mounted video monitors.
In San Bernardino, we prioritize efficiency, security, and convenience in our document destruction solutions.
We are your residential shredding provider
To safeguard against identity theft and fraud, it's advisable for individuals to shred their personal and confidential information. Our residential shredding service is designed to cater to your needs right at your location. Southland Shredding will dispatch a high-speed shredding truck to your home or storage facility on a scheduled day to ensure your shredding requirements are met.
If you have only a limited number of boxes or files, you can also opt for the convenience of delivering your documents to our shredding facility in Ontario for secure destruction.
Our equipment destroys your hard drive and small electronics
Southland Shredding will destroy any hard drives and various media files completely unreadable and impossible to reconstruct. Our rigorous shredding procedure adheres to both state agency and federal compliance regulations. Our off-site hard drive and media shredding services cover a wide range of items, including SSDs, USB drives, CDs, DVDs, cell phones, circuit boards, and more.
We shred plastics and cloth products?
We offer off-site plastic and cloth shredding including credit cards, access cards, pill containers, clothes, shoes and more. Our equipment destroys your plastic material so magnetic stripes and labels are no longer readable or able to be pieced together, and meets state agency and federal compliancy regulations.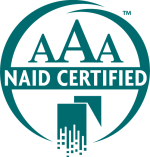 Southland Shredding is NAID AAA Certified
i-SIGMA is the standards-setting body for the information destruction industry. NAID AAA Certification verifies the qualifications of certified information destruction providers through a comprehensive scheduled and unannounced audit program.
Service is the Difference
Contact us to book your secure document and product destruction