Frequently Asked Questions
Are there any other fees besides the quoted fee for service?
No, at Southland Shredding we do not believe in charging any add-on fees like fuel surcharges, container-lease fees, or out-of-service fees. The price you are quoted is the price you will pay.
Can we pick any day for service that we want?
No, we arrange our routes to be done as economically as possible, which means we service certain areas on certain days. Our Zip Code Locator will tell you what day we service your area.
What do you mean by "standard file-size box," and does our material have to be in boxes?
A standard file-size box measures 12″ x 16″ x 12″, similar to a copy paper box. No, your material does not have to be in boxes. It may be gathered in bags, boxes, plastic containers, laid out on tables, or it may still be in file cabinets.
Do you make appointments?
No, we schedule jobs for certain days in certain cities according to our routes, and we will give you a two-hour window of time so you are not waiting for us all day. With traffic the way it is, we may run ahead or behind; but we will certainly try our best to be within two hours of the scheduled time.
Do you have a minimum charge?
$100 for up to fourteen (14) boxes or two 64-gallon containers worth of material. A job this size will take no more than fifteen minutes of your time. If you have recently done any shredding with a personal shredder, you realize what a deal this is.
Is it ok to leave on fasteners?
Yes, our machinery will tear up all fasteners so there is no need to remove them. During the recycle process, all metal is removed through magnetization and screening.
Are there materials you don't shred?
We don't shred X-rays or plastic media on-site; but all this material can be shredded off-site.
Why don't you take the cardboard boxes?
Although cardboard is recyclable, the fiber content is different than that of paper; therefore, these materials cannot be mixed and remain recyclable. So, unfortunately, we cannot shred your cardboard box as we do recycle all paper. Mobile shred trucks are not built with storage capacity; thus, we are not able to haul off boxes.
Are you NAID (National Association for Information Destruction) certified?
Yes we are NAID AAA Certified for both on-site and drop off document destruction.
Why do you not publish a price list?
There are too many variables that may affect the price for any given job. Your location and quantity of material are factors in determining our fee. Speak to one of our customer service representatives for pricing information. A relatively accurate box count is required for all quotes.
Do your personnel physically touch our material to be shredded?
No, but they are constantly viewing the material to be sure there are no contaminants going into the shredder. We have found corporate stamps, staplers, pens, and other items that do not need to be shredded and will remove them before they go into the shredder.
Do we get a certificate of destruction?
Yes, your service ticket is signed at time of service by you and our representative. This serves as your certificate of destruction, detailing the service date and quantity of material destroyed.
Generally, we service weekdays only; however when not previously booked for a local shred event, we do offer service on a Saturday morning. This service is by appointment only with a $700.00 minimum charge.
May we bring material to you?
Yes, although our business is primarily mobile; you may bring your material to our facility. Your documents will be in a secure container, held in a secure area of our warehouse, to be shred at the end of the business day after our mobile shredding equipment has returned from route. We do not make arrangements for customers to meet our trucks. If you must witness the destruction, call to have our mobile equipment come to you.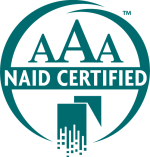 Southland Shredding is NAID AAA Certified
i-SIGMA is the standards-setting body for the information destruction industry. NAID AAA Certification verifies the qualifications of certified information destruction providers through a comprehensive scheduled and unannounced audit program.
Service is the Difference
Contact us to book your secure document and product destruction