Watch our videos about document shredding, hard drive and e-waste shredding and plastics and clothing shredding.
Watch our truck in action and you'll see our most popular service. California law mandates that certain documents must be shredded for confidentiality, and we certify the work is done, so you can sleep at night.
Our equipment will chew through thick bound computer print-outs. Material may be left in file folders, hanging folders, or envelopes. Fasteners such as binder clips, staples, paper clips, and rubber bands do not have to be removed.
Hard Drive and e-Waste Shredding
Your data is never really deleted … unless it is shredded! This humorous video lets you know that Valhalla awaits those bits and bytes. We give you the peace that comes from knowing your old files are really gone. Plus, our powerful shredder turns other electronic items and even circuit cards into tiny scraps.
We provide off-site hard drive and media shredding including SSD, USB, CD, DVD, cell phones, circuit boards, and more.
Plastics and Product Shredding
Off-site plastic and cloth shredding including credit cards, access cards, pill containers, clothes, uniforms, shoes and more. Our equipment destroys your plastic material so magnetic stripes and labels are no longer readable or able to be pieced together, and meets state agency and federal compliancy regulations.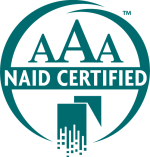 Southland Shredding is NAID AAA Certified
i-SIGMA is the standards-setting body for the information destruction industry. NAID AAA Certification verifies the qualifications of certified information destruction providers through a comprehensive scheduled and unannounced audit program.
Service is the Difference
Contact us to book your secure document and product destruction