Document Shredding in
Ontario, California
We Offer Secure Document Shredding And Hard Drive Destruction Services In Ontario, California.​
At Southland Shredding, we understand the importance of protecting your sensitive information and ensuring your business complies with privacy regulations. With our reliable and secure shredding services, you can have peace of mind knowing that your confidential documents and electronic media are handled with the utmost care. Whether you require scheduled shredding, one-time purge, hard drive destruction, or drop-off shredding, we have the perfect solution for your needs.
Trust Southland Shredding For All Your Document And Hard Drive Destruction.
Southland Shredding is your trusted partner for all your shredding and data destruction needs in Ontario, California. Contact us today to discuss your requirements and schedule your first shredding service. Protecting your information is our top priority!
Our scheduled shredding service is designed to provide you with a convenient and secure solution for ongoing document disposal. We will supply your business with locked shred bins or consoles, and our trained professionals will visit your location on a regular schedule to collect and securely shred your documents. This ensures that your sensitive information is consistently protected and eliminates the risk of data breaches.
Our one-time purge service is ideal for you if you have accumulated a large volume of documents that need to be securely disposed of. Our team will coordinate with you to schedule your business's best date and time. On the scheduled day, we will securely collect all your documents and efficiently shred them onsite or at our secure facility, ensuring destruction and confidentiality.
We offer a convenient drop-off service for individuals or businesses with more minor shredding needs. Bring your documents to our facility, and our trained staff will securely shred them onsite while you wait. You can trust that your information will be handled with the utmost care and confidentiality throughout the shredding process.
Hard Drives And Small Electronics Destruction In Ontario, California
In addition to paper documents, electronic media such as hard drives, CDs, DVDs, and other storage devices can also contain sensitive information. Our hard drive destruction service guarantees your electronic media's secure and irreversible destruction. We use state-of-the-art equipment to physically shred your hard drives, ensuring the data is completely unrecoverable, and provide you with a certificate of destruction for your records.
Why Choose Southland Shredding
Security: We prioritize the security of your sensitive information and adhere to industry best practices for secure shredding and data destruction.
Compliance: Our services help your business comply with relevant privacy laws and regulations, ensuring you meet your legal obligations.
Convenience: We offer flexible scheduling options, including regular pickups, one-time purges, and drop-off shredding, to suit your specific needs and preferences.
Environmentally Friendly: We are committed to sustainability and ensure that all shredded paper is recycled, contributing to a greener environment.
Trustworthy Team: Our experienced professionals are highly trained and dedicated to maintaining the highest standards of confidentiality and customer service.
Our services help your business comply with relevant privacy laws and regulations, ensuring you meet your legal obligations.
Did You Know That Southland Shredding Can Shred Plastics And Cloth Products?
We offer off-site plastic and cloth shredding, including credit cards, access cards, pill containers, clothes, shoes, and more. Our equipment destroys your plastic material, so magnetic stripes and labels are no longer readable or can be pieced together, and it meets state agency and federal compliance regulations.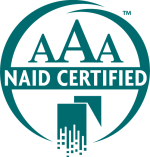 Southland Shredding is NAID AAA Certified
i-SIGMA is the standards-setting body for the information destruction industry. NAID AAA Certification verifies the qualifications of certified information destruction providers through a comprehensive scheduled and unannounced audit program.
Service is the Difference
Contact us to book your secure document and product destruction